We are proud to introduce the
DF-BG BORE PLUG IN-PROCESS GAGE SYSTEM
FOR INTERNAL DIAMETERS
By customer demand we have added bore gaging to our line of in-process gages for
"ZERO DEFECTS" on Multispindles and Transfer Machines.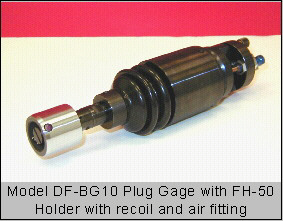 The DF-BG is a gage designed to measure the internal diameter of each workpiece in any position after the bore has been machined. It is particularly designed for use on multispindle automatics and transfer machines with quick response during fast cycle times. The self-centering, floating holder design minimizes errors caused by inaccuracy of the machine. The gage plug itself is specifically designed for a given bore size and shape, and can be modified for specifically harsh testing conditions. Various sized holders can used to meet the machine's space constraints to measure diameters from 3 to 270 mm (0.118" to 10.630").
The PC2003 Amplifier/Controller is programmable for upper and lower tolerance values. Readings outside the tolerance band can be set to activate an alarm or other action, such as stopping the machine. These actions can be defined with multi-part and multi-cycle delays…..Perfect for "zero defects"!
The output of the amplifier may also be connected to a computer or data collector via an RS 232 connector for use with SPC studies, printouts, and other analysis programs.
Click here for SAMPLE APPLICATIONS
Click here for detailed SPECIFICATIONS
<![if !supportEmptyParas]> <![endif]>
Click here for DETECTOR SPC SOFTWARE