DataLyzer spectrum v. Detector

Network Software

NETWORK MODULES

Summary:

DataLyzer® Spectrum packages build on one another for multi-user operation. Use DataLyzer® Spectrum Single-User software to create files and print reports for the larger network system. Add the Admin/Hub and data collection Satellite modules for system-wide monitoring and remote, real-time data collection.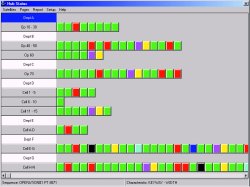 Hub Status

Administrative Hub:

This module links directly to the DataLyzer® Spectrum Single-User package. It is used to assign charts to satellite stations for data collection. The Hub also maintains a real-time, system-wide status screen containing rows of color-coded blocks. Each block represents a control chart. A hierarchy of colors identifies the status of each process block. The Hub can monitor one process or numerous pages of up to 1600 processes each. The status window also gives the Hub user access to real time graphics from shop floor. By simply clicking any block on the status screen, the administrator views control charts or histograms from any satellite in the system.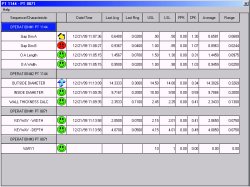 Satellite Status

Satellite:

Use one or more Satellite packages for simplified, real-time data entry. Satellites can be located wherever data will be entered. They provide a local status screen as an overview of the station and instant feedback to the operator for process problems. Satellite input is accomplished using control charts like X-bar & R and P charts. Histogram and tabular by-part formats are also supported. Operators with little computer experience quickly learn to use this system, minimizing the need for extensive training.

Executive Monitor:

A third type of DataLyzer® Spectrum Network module is the read-only Executive Monitor package. It can be used by managers, quality engineers or production personnel needing system-wide status information without the responsibility of system setup and administration.

The DataLyzer® Spectrum Network modules are compatible with all industry standard local area networks. Many popular database platforms are also supported including: MS Access®, MS SQL Server, Sybase SQL Server®, and Oracle®.